Sunday May 23rd - Basic NYC Presents
Sullivan Room Beach Party @ Water Taxi Beach South St. Seaport
Basic NYC Summer 2010 WTB Kickoff

Summer is upon us, and it's time to take the party outside!
For the 2010 summer season, Basic NYC hits Water Taxi Beach for some select Sunday daytime jams. We're kicking it off on Sunday May 23rd at the Water Taxi Beach South Street Seaport with our annual Sullivan Room beach party, featuring a full lineup of some of NYC's finest.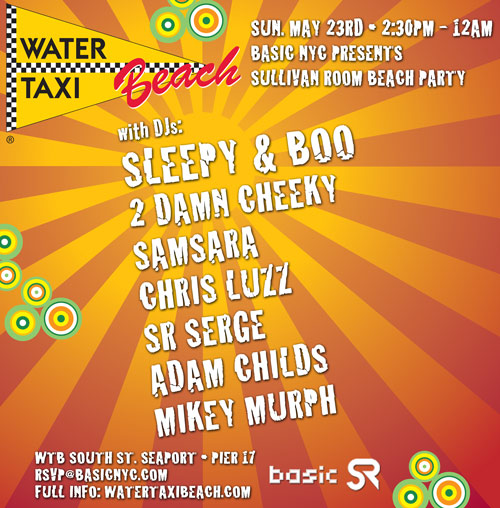 With DJs:
Sleepy & Boo (Basic NYC)
2 Damn Cheeky (FriskyRadio)
Samsara (Global Frequencies / KGB)
Chris Luzz (Luzzed Up?)
SR SERGE (KGB)
Adam Childs (Sullivan Room)
Mikey Murph Celebrating B-Days for Chris Luzz and Pratt! Where:
Water Taxi Beach South Street Seaport (Pier 17, South Street Seaport)
When:
2:30pm - 12am
Price:
email
rsvp@basicnyc.com
for reduced entry + guest list
http://www.basicnyc.com
http://www.sullivanroom.com
http://www.watertaxibeach.com
UPCOMING BASIC NYC WATER TAXI EVENTS:
Sunday June 6th: Tom Middleton @ WTB LIC
Sunday June 13th: Justin Martin @ WTB LIC
Sunday June 27th: SAW Recordings @ WTB LIC
Hit me up for guestlist -
rsvp@basicnyc.com
This will be a lot of fun

The beach at Water Taxi South Street Seaport

Excited for my first Water Taxi burger of the season!

May there be many to follow

---
Permissions in this forum:
You
cannot
reply to topics in this forum