Saturday May 8th - Basic NYC Presents
JEFF MILLS @ Sullivan Room
Tomorrow Plus X

In the future, it has been discovered that when humans believe they are sleeping, their bodies and consciousness are, in fact, taken over by an unknown element entitled "X".
In religion, this entity would be known as the dark forces or evil; in science, it would be known as dark matter. "X" is the negativity (-) in our Universe. There is no way to control it, we can only counterbalance it with an opposing negative force. Minimal music and the subsonic sounds it projects is one of those opposing forces.
May 8 is the initial stage of the counter-balance.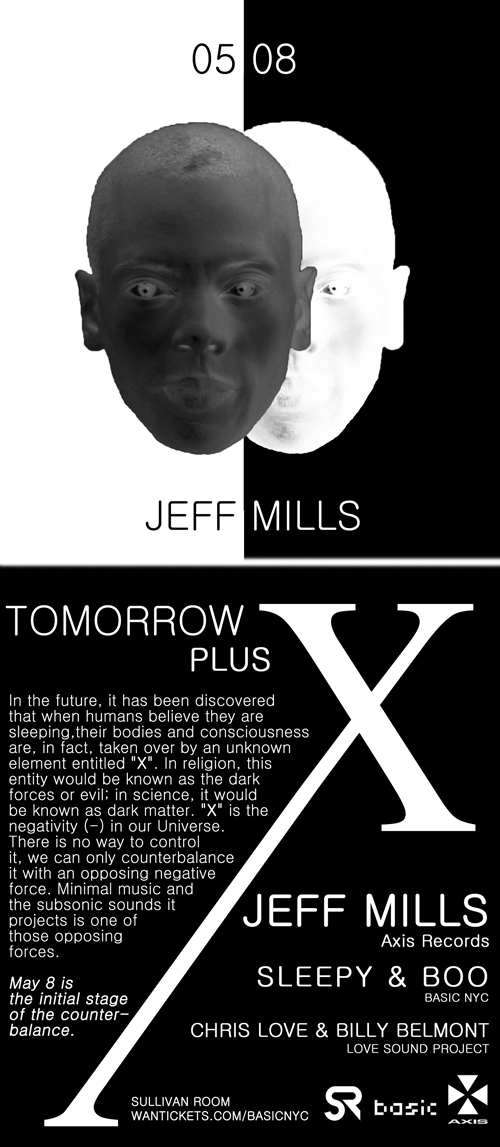 Featuring:
JEFF MILLS (Axis Records)
With residents:
Sleepy & Boo (Basic NYC)
Plus guests:
Chris Love & Bill Belmont (Love Sound Project)JEFF MILLS "The Sleeper Wakes" available now on Axis Records - http://www.axisrecords.comHosted by Rob Rewind! 2-for-1 drinks until 11pm!Where:
Sullivan Room (218 Sullivan St.)
When:
9pm - 5am
Price:
email
djboo@basicnyc.com
for guest list and VIP table reservations
For limited
pre-sale tickets
:
www.wantickets.com/basicnyc
http://www.basicnyc.com
http://www.sullivanroom.com
http://www.wantickets.com/basicnyc
http://www.axisrecords.com
http://www.sleeperwakes.com
We are working on something special for this evening so stay tuned for more details

We'll have all the info up on our site -
http://www.basicnyc.com
CONTEST TIME!
We're giving away complimentary table service for Jeff Mills at Sullivan Room. If you want to enter to win, email
contest@basicnyc.com
and name one of the films Jeff Mills has scored a soundtrack for. Good luck!
If you're looking for some new music, definitely hit up the Axis Store and get Jeff's "Sleeper Wakes" CD.
Seriously spaced-out sci-fi techno. Subliminal, hypnotic and totally Mills.
http://www.axisrecords.com/
Also check out the new Something in the Sky EPs too for some more UFO-inspired dancefloor trips.
AXIS TRANSMISSION - JEFF MILLS:

"Truth exists. Only lies are invented" - Georges Braque

The truth about music is that it is more a phenomenon then it is the rites of human behavior. It does not beg for attention or to be noticed, nor does it have answers. Music is uncertain and is rightly better then it sounds. In honesty, I've never been able to fully capture in Music the feeling I had to make it. The truth escapes the finished product, therefore, displaying only the shadow of a thought. Music is more than I can imagine.

Tomorrow Plus X tells a fictional story about a struggle to balance the scales of the truth/balance. It furnishes the crude details of an artful civilization on the brink of psychological self-starvation. Menaced by a unknown force in our Universe, participants must adopt that of a communal revolution to combat its control. Tomorrow Plus X allows us to step forward, past the warmth and familiarity of what was once secure in the past. It gives permission to unleash from the age of exclusion and endorses the common goal of exploring the Truth.

1:00am Incubation begins.
1:15am Preset the Counterbalance initiation
1:30am Counterbalance phase 1
2:00am Counterbalance phase 2
2:30am Counterbalance phase 3
3:30am Counterbalance phase 4
4:00am Incubation ends.
Brand-new bass components coming to Sullivan Room for this party.
Delivery today!! Can't wait to hear them.




Number of posts

: 74


Registration date :

2009-09-30





Similar topics
---
Permissions in this forum:
You
cannot
reply to topics in this forum